I've done a little marathon of Jane Austen's adaptation movies (Pride and Prejudice & Sense and Sensibility) last week. Although both are nice, I'd say I liked Pride and Prejudice more than Sense and Sensibility. I just love everything about it. The cinematography is outstanding. The costumes and set designs are superb – not too gallant and shining and I'm loving the Victorian Era. I love Keira! I soo love Jane Austen!
Now, I can't wait to get a copy of this one: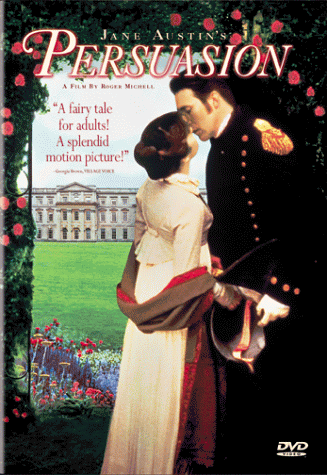 I'm sure, it's dreadfully romantic!!
This is actually the 1st JA's book I've read, the only other is Pride and Prejudice. The 2 books are quite different but equally good. Story-wise, I liked Persuasion better, though the story is too predictable unlike Pride and Prejudice which has a lot more exciting scenes. I hope I get happy and satisfied when I get to watch the movie itself. Here's one of my favorite scenes, Anne talking to Captain Harville while Capt. Wentworth was listening on the other room:
"I believe you capable of everything great and good in your married lives. I believe you equal to every important exertion, and to every domestic forbearance, so long as–if I may be allowed the expression–so long as you have an object. I mean while the woman you love lives, and lives for you. All the privilege I claim for my own sex (it is not a very enviable one; you need not covet it), is that of loving longest, when existence or when hope is gone."
That part of the conversation triggers Capt. Wentworth into writng Anne a love letter which he says:
"I can listen no longer in silence. I must speak to you by such means as are within my reach. You pierce my soul. I am half agony, half hope. Tell me not that I am too late, that such precious feelings are gone for ever. I offer myself to you again with a heart even more your own than when you almost broke it, eight years and a half ago. Dare not say that man forgets sooner than woman, that his love has an earlier death. I have loved none but you. Unjust I may have been, weak and resentful I have been, but never inconstant. You alone have brought me to Bath. For you alone, I think and plan. Have you not seen this? Can you fail to have understood my wishes? I had not waited even these ten days, could I have read your feelings, as I think you must have penetrated mine. I can hardly write. I am every instant hearing something which overpowers me. You sink your voice, but I can distinguish the tones of that voice when they would be lost on others. Too good, too excellent creature! You do us justice, indeed. You do believe that there is true attachment and constancy among men. Believe it to be most fervent, most undeviating, in F. W.
This is the kind of love letter every woman would cherish. I am most of the time, NOT hopeless romantic and cheesy, but this book makes corny and mushy. I don't know what it is for you if get to read books that are written almost 200 years ago, but for me, it's magical, splendid and very emotional. I feel for this people. Grabeh! Kung totoong may time machine, naku, ito yung moments na gusto kong balikan. Prinsesa yata ako dati eh. Hehehe.
I'm sooo dying to get a copy of this one too:
and this:
and this:
The chance of getting these in Quiapo is, obviously, very impossible. I might even have a hard time finding it on video stores. I would appreciate it if YOU (whoever you are) would be so kind enough to let me borrow and hopefully burn these videos. Thank you!